by
posted on March 28, 2021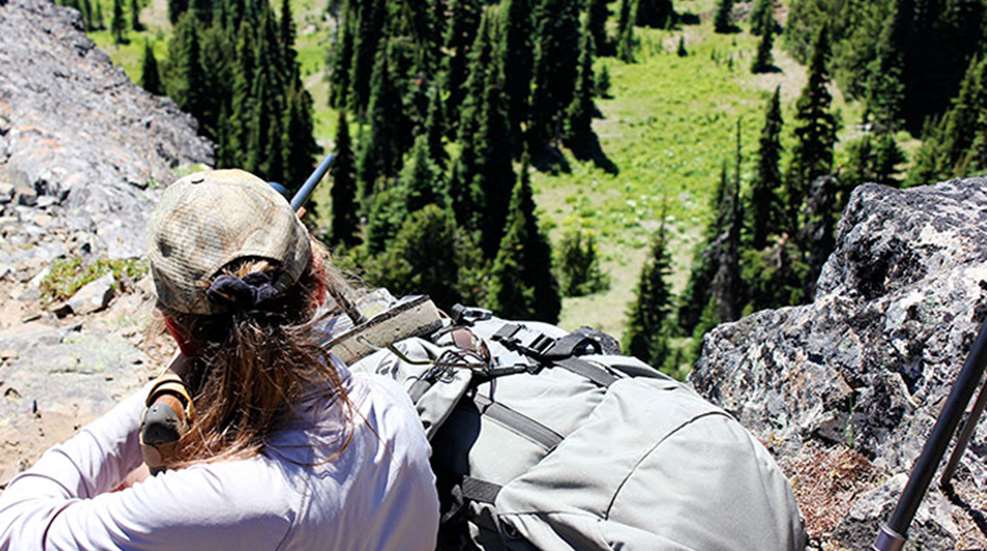 "The NRA is sending you-the most accident-prone person everyone knows-to attend the Magpul course?" brother Joe asked, half amused, half concerned. "You'll survive in the backcountry for five days?"
"No, the first two days we'll shoot on the range, then we'll go on a three-day, 21-mile backpack trip to Mount Rainier," I said. I'd hunted around the world, enjoyed testing my limits in karate and the gym, and took pride in pushing past my goals. Still, Joe shot back, "You know Mount Rainier is a 14,000-foot, active volcano and that several people die there each year due to falling rocks, extreme weather and hypothermia?"
Fortunately, Magpul Core's inaugural Backcountry Hunter's Course featured, among its many top-notch instructors, Guiderite Adventures' Luke Carrick. Having gear approved by Luke made all the difference.
What I Brought
I sported Cabela's women's moisture-wicking XPG clothing.In warm climates, don't overlook Duckworth's Vapor Wool. Arc'teryx's insulated, high-performance Atom hoody is lightweight, packable warmth and ideal as both a mid-layer or stand-alone piece in warmer temps. I packed my Huntworth Ladies Stealth series gloves with high-tack palms. Needing serious ankle support, I was thankful for my Kenetrek Mountain boots.
I was in great company with my Day Packs From Stone Glacier Sky 5100 pack as Luke and three other students also toted one. That spoke volumes! The 5,100-cubic-inch pack with a KRuX frame converts to a 3,500 cubic-incher. A center zipper offers access to four internal pockets. Accessories include a rifle sling, spotting scope pocket and dry pack for hauling meat.
Carry at least 3 liters of water. I used a basic water pump with a nylon wrap. Pumping from fast-flowing water is best, though in an emergency you can't overlook the elk wallow.
When the backcountry zaps you mentally and physically, a lightweight canister of  O2 Unleashed with 95 percent pure oxygen beats back fatigue and altitude and saves the day.
I used my lightweight, stable Easton Kilo Carbon three-season tent with carbon fiber frame. For cold weather, four-season options weigh 2.5-plus pounds but hold heat. Temperature ratings for synthetic sleeping bags can be off, so I prefer Therm-A-Rest's Mira women's down with heat-capturing ThermaCapture lining. A lightweight 2.5-inch Therm-A-Rest pad offers ample width for a better rest. Tip: Pack a patch kit! You'll glass for hours, so protect your lower back with 21/2-inch-thick pad. For more tips on clothing and gear selection for a backcountry trip, see my "American Bowhunter" blogs posted in July and August 2014 (americanhunter.org).
My Pelican LED light provided multi-beam functionality and a super-bright 133 lumens on high.
The new, compact Jetboil Flash Camo Backpacking Stove is a burner and cooking vessel in one. Everything stores in the 1-liter cooking cup, and the unit lights with the click of a button.
Also pack a compass, GPS, Thermacell unit, titanium drinking cup, rain gear, camp shoes and a first-aid kit. Carry a mirror, compass, whistle, glow sticks, firestarter, wet wipes and rope all in one pouch. Brownells has plenty of survival gear.
Luke's Lifesavers
Luke Carrick of Guiderite Outfitters has some tips for extreme backcountry hiking:
1. Hydrate often. Replace lost electrolytes through Gatorade or CamelBak tablets,w hich also help to thwart muscle cramps. Ninety percent of fluids must be straight water.
2. Train with your nutrition plan.
3. Tape hot spots on your feet to prevent blisters.
4. Walk using your quads and the bottom of your feet, not your toes.
5. Wear thick socks, but keep your toe area loose to avoid cramps.
6. Avoid depressions and dead trees when placing your tent, particularly in storms.
7. In low temperatures, keep base layers warm inside your bag.
8. Be organized, with your headlamp available.