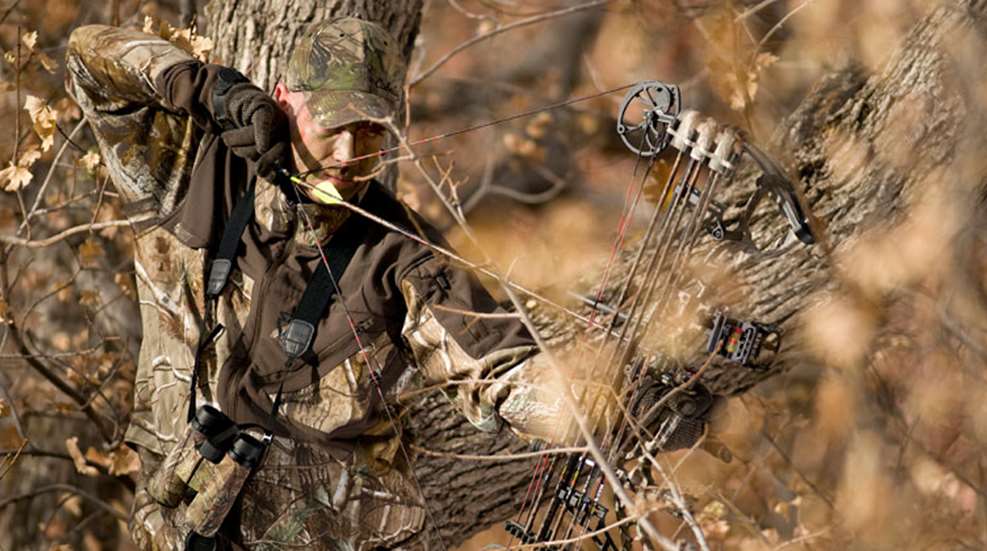 You've found the perfect spot for your treestand, so don't blow it by being lazy now. A perfectly set stand creates comfort, and comfort enables longer sits and less fidgeting; it won't squeak when you rise to draw; it allows accurate shots in multiple directions; and it won't kill you while climbing in and out. Most hunters know this, but still hunt from haphazardly hung stands. With a little effort and this 12-step guide, you'll be sitting pretty this fall.
1. Buy the right stand.
If you're nimble enough to hang it and climb into it, buy a quality hang-on stand. Hang-ons are the most versatile, and once they're hung correctly, they're supremely solid and safe. For public land or areas prone to theft, choose a climbing stand. It limits the trees you can use, but it can be removed after each hunt. Ladder stands are wonderful for their safety and simplicity if you have a tree that will accommodate one. Most could be taller. Maybe in your area a box blind makes the most sense. Whatever you choose, make sure the stand is solid with no squeaks and has a seat that's as comfortable as an office chair. Bowhunters need to sit tall (with the waist above the knees) so standing is effortless. Only buy a model with a rifle rest if it's removable. Your life literally rests in your treestand, so don't go cheap here. After some experience with your stand, tweak it to your liking. You'll be glad you did.
2. Determine the best orientation and height for your stand.
Obviously you should be able to shoot in the direction from which you expect a buck to appear, but anticipate the unanticipated. While some hunters I know face the opposite direction so their draw is concealed, I hang my stands so the most likely kill zone is to my 10 o'clock (2 for a lefty.) This lets me stand up and shoot comfortably without shifting my feet.
I believe many hunters go too high and decrease their odds due to foliage in forest canopy. If the wind is consistently in my favor, I'll take a 12- to 15-foot stand with great shooting lanes over one at 20-25 feet with limited vision. In crosswind setups, I'll go 20 feet if possible. Too high is roughly anything over 25 feet because if the deer is standing closer than 10 yards, the angle is such that the chance of a one-lung hit is great.
3. Install climbing sticks.
You can use screw-in steps, but sticks install easier and are safer. Place the steps to the left of your treestand (if you're right-handed). It's important that your steps extend above the treestand's seat so you can simply step off them and onto the stand's platform.
4. Install a lifeline.
While wearing your safety harness, climb up and loop a lifeline around the tree as far up as you can safely reach. Let the tag end fall. A lifeline is a long, heavy rope that runs vertically up the tree's trunk and protects you if you fall. Your harness attaches to it via a Prusik knot that slides with you as you climb and tightens if you fall. A lifeline ensures your life from the moment you leave the ground until you're back down. I'm amazed how few hunters actually use one.
5. Use a hoist rope.
Toss an additional rope over a branch above your intended stand location. If there are no branches, use a ratcheting strap secured around the tree. Clip a carabiner onto the strap, then pull the hoist rope through the carabiner until both ends reach the ground.
6. Hoist your stand.
From the ground, tie the hoist rope to your folded treestand and pull it into the tree. Tie it off so that it suspends where you want to hang it.
7. Hang your stand.
Use your safety harness and lifeline.
8. Fine-tune.
Sit in your stand to settle it. Shift your weight to see if it squeaks or rattles. If it's not perfect, adjust it. Some new stands feature leveling systems. Use them. When it's perfect, use the ratcheting strap to ensure it stays put.
9. Install a pull-rope.
Tie on a thin pull-rope to haul up your bow on the opposite side of the steps. Screw a bow hanger in the tree or a limb that will place your bow upright, near your bow hand, but where it's not in the way when you stand to shoot. Screw in holders for your backpack and quiver. Make sure your quiver is secure and easily accessible.
10. Clear shooting lanes.
A buck likes the woods for its cover, so don't get carried away lopping foliage. I like to leave bigger limbs but remove small ones that are tough to see in dim light. Two or more small lanes are better than one large one. Sit in your stand and note those that should be trimmed from the ground.
11. Tie loose ends.
Tie a clip to the end of your pull-rope and secure it to a step so you can access it easily in the dark. Tie the tag end of the lifeline around the lowest step so it's taut.
12. Mark your stand.
Use reflective tacks or tape if there's a chance you can't find it in the dark. Finally, say a quick chant for good luck. To arrow a trophy from this stand—or anywhere—you'll need it.

Image by John Hafner/Windigoimages.com. Reprinted from American Hunter magazine...why not visit them on the Web?