by
posted on August 24, 2017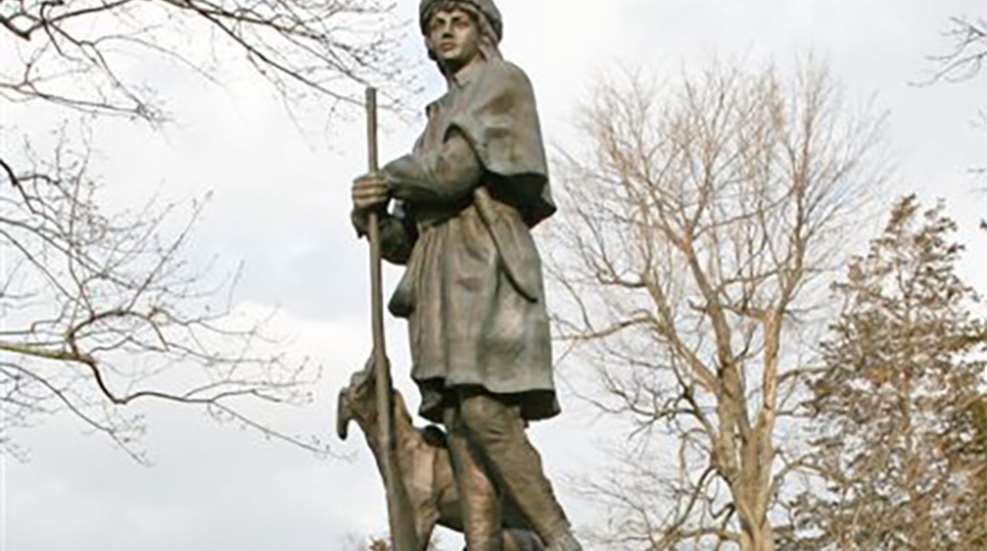 Few frontiersmen of the 18th Century were as adept as the Indians at hunting, trapping, and tracking; but one white man surpassed even the Native Americans at those skills, becoming a legend in the process: Simon Kenton.  He was a contemporary of Daniel Boone and just as well-known during his time.  Kenton once even saved Boone's life. 

It happened in April 1777, when Kenton was one of just 24 men defending the wilderness fort named for Daniel Boone—Boonesboro.  Indians were besieging the fort, yet the defenders fell for a ruse and all but eight men were lured outside the walls where they were attacked.  Boone was shot in the leg during the skirmish and couldn't stand, let alone run back to the fort.  Seeing Boone go down, Kenton raced to his side, scooped him up in his arms, and ran for the open gate. 
The Indians also saw what was happening, and Kenton's path was quickly blocked by two tomahawk-wielding warriors.  Nearing the pair at full speed, Kenton dived forward, throwing Boone's body at the Indians.  The resulting collision knocked Boone unconscious and the two Indians off their feet.  Kenton quickly killed one of the Indians with a tomahawk blow, picked up Boone a second time, and kicked the other, dazed Indian squarely in the chest before continuing his run for the fort.  Both Kenton and Boone made it through just as the heavy, log gate was slammed shut and barred.
Simon Kenton was born in northern Virginia in 1755 to tenant-farmer parents.  Not much is known about his early years, other than the fact he detested farm work, preferring to roam the nearby woods instead.  At age 16, Kenton was involved in a vicious fight with a rival over the hand of a young lady.  Believing he had killed his opponent (William Leachman), Kenton lit out for the frontier and changed his name to Simon Butler.  He eventually fell in with a group of hunters and trappers headed for the Ohio River valley, and so began his education in the ways of the wild.
Kenton was well equipped for wilderness life.  Standing over six feet tall and weighing a solid 190 pounds, he was considered a large man for his time.  He also possessed a natural quickness and keen sense of observation—gifts that would keep him alive in the woods in the years to come.  He learned quickly on the frontier, and eventually became renowned as a hunter and scout in the land the Indians called kan-tuck-ee and later in the region to the north, known as the Ohio country.   
One of Kenton's most famous hunting feats occurred during the bitter winter of 1776-1777 when Harrodsburg, Kentucky, was under siege by Indians.  "The Indians became very harsh on us," Kenton remembered.  So harsh, in fact, that he could only leave the fort at night, under cover of darkness, to hunt. 
Once in the deep woods and well away from the fort, Kenton survived the cold winter night by first digging a small hole in the ground and filling it with strips of oak tree bark.  He then ignited the bark with flint and steel and sat cross-legged over the glowing hole, a blanket over him to help trap heat and hide the low fire. 
At first light the following morning Kenton began hunting, butchering any deer he killed on the spot.  He then made a crude backpack of the deer hides, filling it with chunks of venison.  This heavy load he carried back to Harrodsburg, slipping into the fort after dark.  Kenton repeated this selfless act of heroism many nights during that harsh winter long ago, saving the pioneers within the fort from certain starvation.
But Kenton was not always successful at avoiding Indians.  No doubt the greatest adventure of his life came in 1778-1779 when he was captured by Shawnees, tortured, and sentenced to death.  
The incident began when Kenton, on a spying mission north of the Ohio River, was surrounded and captured.  Accused of killing Indians and stealing horses, he was forced to run gauntlet after gauntlet at various Indian villages that he and his captors passed as they headed north.  At one town he was even stripped of his clothes and tied bareback to a wild horse; the horse was then whipped through briars, low tree branches, and underbrush.  During his long period of captivity his upper arm was broken and left unset for days. 
Finally, this great enemy of the Shawnees was sentenced to be burned at the stake.  Miraculously, the fatal sentence was delayed, first through the influence of frontier renegade Simon Girty and then by the Mingo chief Logan—both of whom admired Kenton. 
Eventually, Simon Kenton was ransomed by an emissary from British-held Detroit and spent the winter there.  Escaping the next spring, he arrived back in Kentucky in July 1779.  Only a short time later Kenton was back in the Ohio country again, this time scouting for a military expedition.  
But the frontiersman did not spend all of his time saving settlers and fighting Indians.  He took advantage of his role in the forefront of settlement by claiming huge amounts of land for himself through so-called "tomahawk improvements."  These he made by chopping his initials or "mark" into large trees at the four corners of the land he desired. 
Using this early system of land claim, it is believed that Kenton once owned nearly half a million acres in what one day would become Kentucky, Ohio, Indiana, Illinois, and Missouri.  By 1790, he also owned and resided on a comfortable estate in northern Kentucky, living in a large brick house with his wife, surrounded by his children, slaves, horses, and tenant farmers.   
But like many frontiersmen, Kenton was not a good businessman.  He was further hampered in his business dealings by the fact that he remained illiterate all his life.  In 1799, he moved to Ohio, taking up residence on the banks of the Mad River north of Springfield, and through a continued series of bad business ventures lost nearly all his wealth and land. 
Simon Kenton and his family even spent time in debtors' prison, being incarcerated in the Champaign County jail in Urbana, Ohio.  However, in 1804—one year following Ohio statehood—he was appointed brigadier general in the state militia, ever after being respectfully referred to as "General."     
The life story of Simon Kenton reads nearly like a movie script—a life filled with adventure, danger, and narrow escapes, all of it played out on a wilderness stage.  And to top it off, remember that young rival whom Kenton thought he'd killed as a boy?  Unbelievably, the young man had survived the beating.  Kenton learned of it later in life and, no longer having to hide his true identity, changed his last name back from Butler to Kenton. 
Simon Kenton died in poverty at age 81 on his small farm near Zanesfield, Ohio, in 1836,  his gravestone reading simply, "Full of Honors, Full of Years."  His grave, pictured in the accompanying photograph, has since been relocated to Urbana, Ohio.